How to measure VESA patterns?
If you're looking to buy a mount for your computer monitor or TV, you've probably come across the phrases "VESA compliant" or "VESA standards compliant." Industry terms can be confusing and sometimes they raise more questions than they answer.
What does VESA mean? What are these measures that are listed? How do you know which stand is compatible with your screen? The answers are actually pretty simple, and by the end of this article, you should know exactly what to look for to make sure you're buying a mount that fits your screen.
What are VESA mounting patterns?
VESA mounting patterns are the standardized measurements used to mount displays on universal monitor stands, TV stands, or wall mounts. VESA is an acronym for Video Electronics Standards Association, which is an organization dedicated to creating standards in the consumer electronics industry.
You can find the VESA mounting pattern on the back of your computer monitor or TV screen as four holes, each containing a female bolt thread. These holes will be positioned to make a rectangular shape. Each thread constitutes a corner.
How do I find VESA compatibility for my display?
Often your VESA compatibility can be found in the manual or product information that came with your monitor or TV screen. If you no longer have the manual, you should be able to find it online by searching the web for your specific display model.
But if you're struggling to find it, or just prefer the more hands-on approach, measuring the VESA pattern yourself is quick and easy.
Measure (in millimeters) the distance between the top and bottom holes on the back of your screen.

Measure the distance between the left and right holes. Put these numbers next to each other and you have your VESA pattern!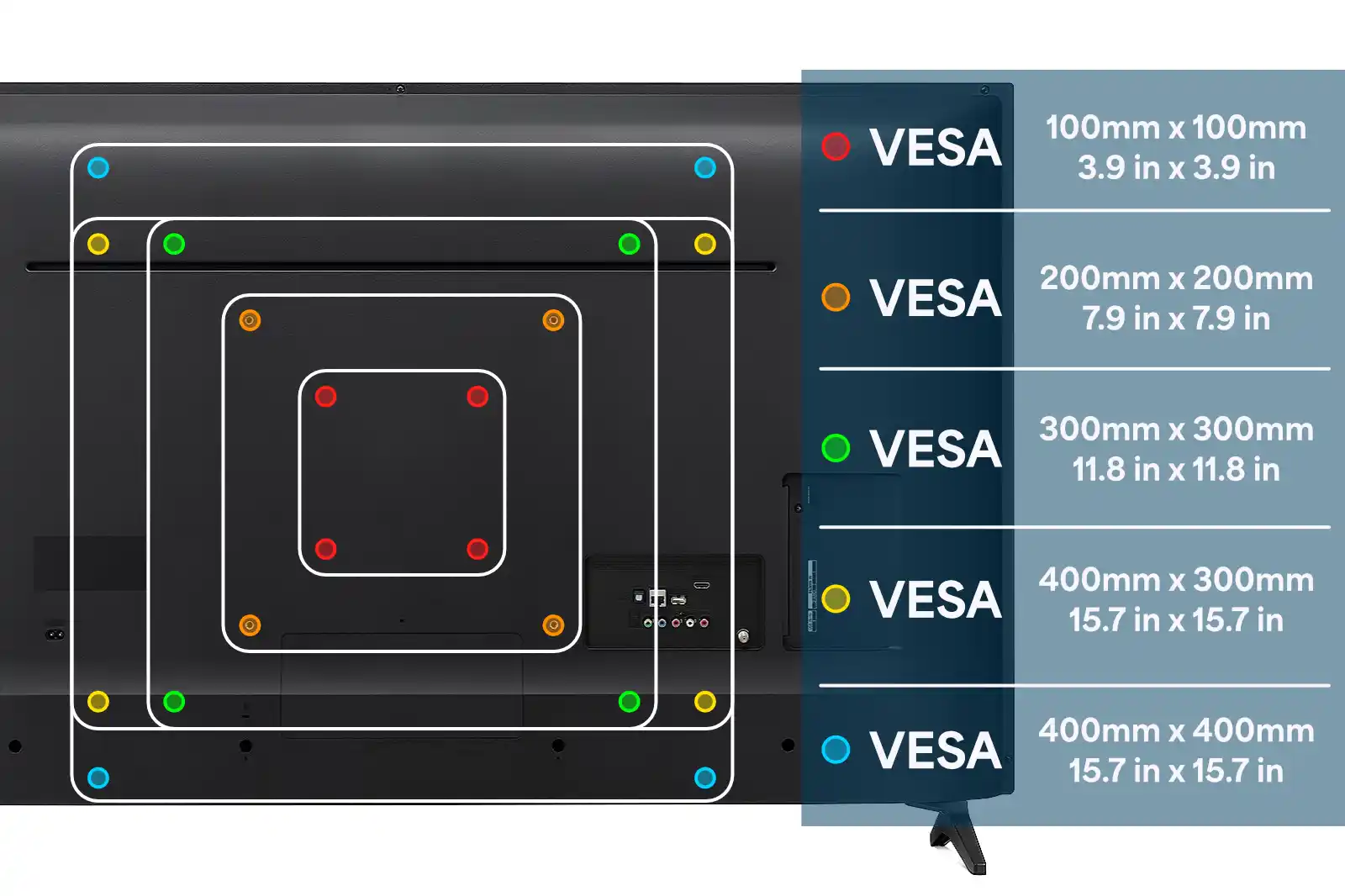 Most standard computer screens measure 100mm x 100mm, but some models vary in size, ranging from 75mm x 75mm all the way up to 200mm x 200mm.

 
TV screens have an even greater reach, measuring up to 800mm x 400mm and beyond!

 
Generally speaking, the larger the screen, the greater the VESA measurements.
What if my screen does not have VESA support?
Sometimes a particular screen model does not have a VESA pattern. Instead, it has a proprietary mounting design that's only compatible with monitor mounts designed specifically for that particular line. This is more common with computer screens than with television screens.
If this is the case for your screen, don't worry! There are VESA adapters you can purchase.
Making sure your monitor is properly compatible with the monitor stand you buy can be one of the most important parts of this purchase, but it's far from the only consideration you need to make. If you are not sure what else you need to authorize, contact us via WhatsApp on 0688004707
---